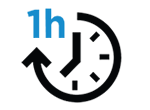 Enjoy another privilege with 1hourService!
Fast Service * 1Hour service (only for Samsung devices)!
Fonemaster gives you the ability to repair your mobile phone in just one hour *.
Visit us to offer you 1hourService and be served immediately.
Within 20 minutes of delivery of your device, you will be informed about the progress of the repair. Then, within 1 hour you will be able to receive your device repaired.
*In cases such as lack of spare parts, periodic damage, etc, the repair may take longer than usual.
Device Pickup
With "Pickup & return" service, our company picks up your device from anywhere in Cyprus, to repair it and send it back in just 4 working days. **