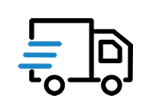 Απολαύστε ένα ακόμη προνόμιο με την υπηρεσία Pickup & Return Service
Θέλετε να επισκευάσετε την συσκευή σας αλλά δεν έχετε τον απαραίτητο χρόνο για να έρθετε στο κατάστημα μας; Μπορούμε να έρθουμε εμείς σε εσάς!
Στην Fonemaster σας δίνεται η δυνατότητα να επισκευάσετε την συσκευή σας άμεσα, ακόμη και εάν δεν έχετε το χρόνο να μας επισκεφτείτε ή ακόμη εάν κατοικείτε σε μια άλλη πόλη.
Απλά συμπληρώστε την φόρμα για την υπηρεσία  Pickup & Return Service  στον ακόλουθο σύνδεσμο και σε πολύ σύντομο χρονικό διάστημα ένας εκπρόσωπος της εταιρίας μας θα επικοινωνήσει μαζί σας για να διευθέτηση την παραλαβή της συσκευής.
Device Pickup
With "Pickup & return" service, our company picks up your device from anywhere in Cyprus, to repair it and send it back in just 4 working days. **
*Εξαιρούνται δυσπρόσιτες περιοχές εκτός των ορίων του δικτύου της ACS. Για να δείτε αν η περιοχή σας είναι δυσπρόσιτη κάντε κλικ εδώ.
** Εξαιρούνται χρονοβόρες βλάβες, εκτεταμένων ζημιών, καθώς και περιπτώσεις μη διαθέσιμων ή σε αναμονή ανταλλακτικών.
The customer needs to backup their data adequately and completely before handing over their device. Fonemaster is not responsible for the loss of any data and files of the device during the execution of technical work by technicians.


Fonemaster is not responsible for the transfer of the device from the customer to the repair center. Safe packaging and transport of the product is the customer's responsibility.


If the device is covered by warranty, it is necessary to be accompanied by a copy of the retail receipt or invoice.


The repairing time depends on the availability of the spare part of each manufacturer, but also on unexpected complications during the restoration process. Fonemaster bears no responsibility for any delays as well as the consequences it may have on the customer.


In case a device which during the delivery is covered by warranty, but after a technical inspection it is found that the device is out of warranty due to misuse and the customer denies the repair cost, then there is a minimum check fee of 11,90€.


The description of the damage at the present is made at the absolute discretion of the customer. Fonemaster performs a technical inspection to determine the damage as said and the complete right operation of the device. It then informs the customer of the full description and possible costs to solve the problem.


In case the fault is related to connection terminals such as the charger, USB cable, headphones and other accessories, please send them together with the device for technical inspection.
I have read the website's privacy policy.